Thank you to our incredible donors!

We would like to thank you for your interest in AAUW and our programs in the community that benefit women and girls! Your generous donation is already making life better for young women.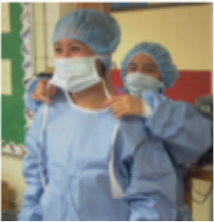 Girls Can! Career Education Conference is held annually in March at Doña Ana Community College where more than 250 sixth grade girls from all over the county and at least 50 parents attend. The girls participate in three workshops presented by professional career women who provide hands-on activities to help the girls understand what is required for their career choices. AAUW has been providing Girls Can! for 27 years. For a look at the Girls Can 2019 full report, click here:  Girls Can Report 2019
One AAUW concern is equal pay for equal work. "Equal Pay Day" occurs in early April of each year, and represents the number of days the average woman has to work to bring her income up to the same amount earned by men by Dec 31 of the previous year. Both the Dona Ana County Commission and the Las Cruces City Council issue proclamations recognizing the need for equal pay for equal work.
Tech Trek, a week-long STEM (science, technology, engineering, and math) summer camp for eighth-grade girls sponsored by AAUW-NM, is held in June. Seven years ago, the first New Mexico Tech Trek was held at New Mexico State University. Currently, it takes place at New Mexico Tech in Socorro and includes 60 girls selected from across the state. Funds are raised by AAUW branches all over New Mexico. The actual cost for each girl is close to $1,000. Because of successful fundraising efforts, families will pay only $50 for this life-changing summer camp experience for their daughters.
Donations may be made on the AAUW Tech Trek NM website:  Techtrek-nm.aauw.net
We are eager to share each new AAUW LC success with you in our newsletter, The Organ Mountain Views. (see Newsletter tab) Visit AAUW's national website at www.aauw.org, for updates on AAUW projects.
On behalf of everyone here at AAUW, thank you for supporting the future of young women in our community.