The House of Representatives of the State of New Mexico Recognized February 11, 2019 as AAUW-NM Day!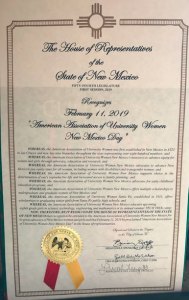 Carlsbad Current Argus posts article about the AAUW-NM Convention
"We want to fight for equity and education for women and girls," Cassie Marrs said. "It's really important that we get together and discuss the issues to see what needs to change."
Megan McQueen: Her Name Means Great Theatre
The LC Bulletin recognizes Megan McQueen! "Megan McQueen: Her name means great theatre," by Mike Cook, appeared in the March 23 edition of the Las Cruces Bulletin. Click here to read the 2-page article, or see it in the Bulletin.
You may read this in time to get a seat at "2018 Broadway Today," being held Saturday, March 31 – the current show produced and directed by NMSU Theater faculty and AAUW LC member Megan McQueen.
Equal Pay Day for Dona Ana County: April 4, 2018
Las Cruces Public Schools shares Girls CAN! information
Julia Brown to Speak with NMSU Student Organization
Deadline to Apply for NCCWSL Scholarship: January 15, 2018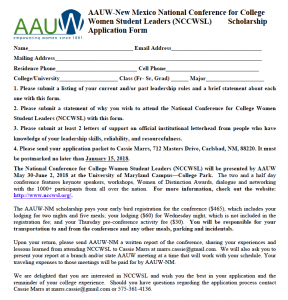 Dr. Christa Slaton publishes in Newsweek

Outlook Is Going Digital!
Starting with the summer 2017 issue, AAUW Outlook will be going digital. You'll still get the same insight about the issues that affect women and girls the most, but with more content. Make sure the publishers have your preferred email address on file! If you aren't sure which email you have listed with your membership, send an email to connect@aauw.org, and tell them which account to use. Then look for the next issue in your inbox!
AAUW-NMSU Student Organization Event
Tuesday, August 22, held in the William Conroy Honors College. What a wonderful gathering to kick-off the 2017-18 academic year!
Las Cruces Bulletin, DIVAS Article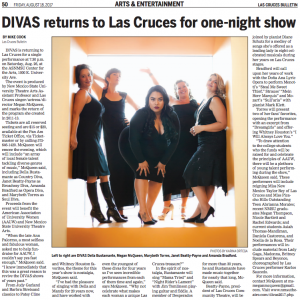 AAUW Student Affiliate Meeting

DIVAS 2017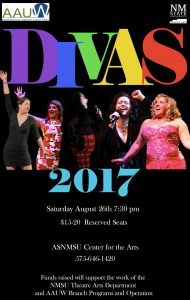 Educational Funding and Awards

AAUW has a long and distinguished history of advancing educational and professional opportunities for women in the United States and around the globe.
One of the world's largest sources of funding for graduate women, AAUW is providing more than $3.7 million in funding for fellowships and grants to 250 outstanding women and nonprofit organizations in the 2017–18 academic year. Due to the longstanding, generous contributions of AAUW members, a broader community of women continues to gain access to educational and economic opportunities — breaking through barriers so that all women have a fair chance.
Fellowship and grant recipients perform research in a wide range of disciplines and work to improve their schools and communities. Their intellect, dedication, imagination, and effort promise to forge new paths in scholarship, improve the quality of life for all, and tackle the educational and social barriers facing women worldwide.
https://www.aauw.org/what-we-do/educational-funding-and-awards/
Congratulations to AAUW-LC Member Julia Brown! She has been elected as Board Chair for AAUW National.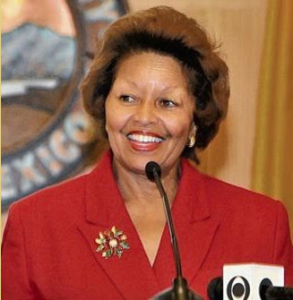 AAUW – New Mexico representing at the AAUW National Convention in Washington, D.C., June 14 – 17, 2017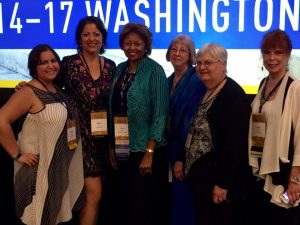 L-R: Cassie Mars, Roxanne Lara, Julia Brown, Sylvia Fink, Helena Whyte
Interview with Susan DeMar, NMSU AAUW Affiliate Club advisor, and Jessica Greenamyer, Club President.
AAUW-Las Cruces receives the Ingenious Ideas Award, with Beverly Chambers, AAUW-LC Co-President