26 Amazing Years of Girls CAN!
Saturday, March 7, 2020
8 am – 12 noon
A Career Exploration Conference for 6th Grade Girls
GIRLS CAN! is the premiere community project for the AAUW chapter in Las Cruces. Again, we are pleased to be offering our career exploration event at Dona Ana Community College, East Mesa Campus on March 7, 2020.
All sixth-grade girls from all schools in Dona Ana County are invited to participate in three, one-hour experiences with women from a broad range of professions. Each presenter is asked to provide the participants with a hands-on experience related to their profession. As can be imagined, a good time is had by all.
Please come join the fun!  To volunteer or learn more about Girls Can!, contact Kay Brilliant or Londa Seiffert, via girlscan.lascruces25@gmail.com.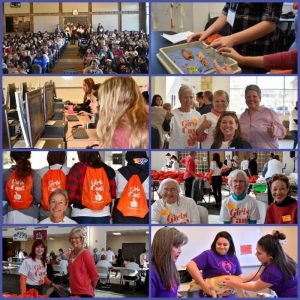 In addition to the wonderful offerings provided to the sixth-grade girls, the day also offers parent workshops. Topics related to health, finances, and education are offered in both Spanish and English. These workshops have become quite popular and our attendance is growing each year.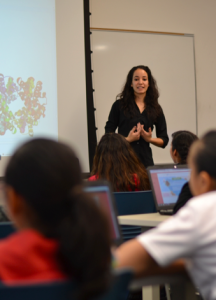 We are grateful for the many volunteers from AAUW Las Cruces, students from NMSU, and others from the Las Cruces community. All are welcome to join us for a wonderful experience.  In addition to volunteering, all donations are welcome. Please consider a gift of your time or treasures!
Let's make this 26h Anniversary a real joyful day! Save the date!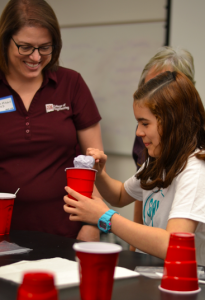 Can you remember yourself and your friends in the sixth grade? I don't know about you, but I never met any professional women besides teachers and nurses. Those careers are critical and integral to our world, yet my life could be seriously different if I had the opportunity to get to know any women lawyers, computer scientists, dentists, physicians, engineers, veterinarians, judges or geologists, to name a few of the careers we have available to everyone today.
The major purpose of GIRLS CAN! is to encourage girls to experience possible career options, continue their education, and help them achieve their dreams.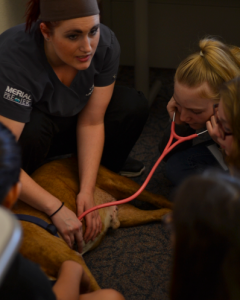 GIRLS CAN! requires the help of many volunteers and hours of preparation to make it a success. We especially need volunteers in the following areas: registration, presenter recruitment, parents' workshops, school outreach, food coordinators, and facilitators to assist our presenters.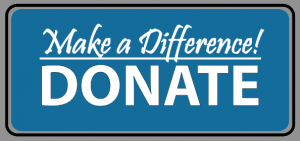 Girls CAN! is supported by volunteers and donations from the generous community and industry partners from throughout New Mexico. Girls CAN! is now a special project fund within the NM Network for Women in Science and Engineering (NMNWSE or Network). As a fund within the Network, it falls under their 501(c)(3) status, which will allow all donations to be tax-deductible.  When donating online, with Donate button to the left, you must "designate Girls Can"
To donate to Girls CAN!, make the check payable to, NMNWSE, and add Girls CAN! in the notes section. Submit donations directly to NMNWSE, PO Box 51926, Albuquerque, NM 87121.