Experience Girls CAN! A Career Conference for 6th Grade Girls
         
24th Annual GIRLS CAN! Career Exploration Conference
was held Saturday, March 10, 2018
8 am – 12 noon
Can you remember yourself and your friends in the sixth grade? I don't know about you, but I never met any professional women besides teachers and nurses. Those careers are critical and integral to our world, yet my life could be seriously different if I had the opportunity to get to know any women lawyers, computer scientists, dentists, physicians, engineers, veterinarians, judges or geologists, to name a few of the careers we have available to everyone today.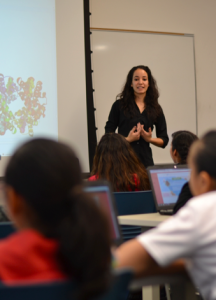 The major purpose of GIRLS CAN! is to encourage girls to experience possible career options, continue their education, and help them achieve their dreams.
While girls are attending three workshops, their parents can also attend workshops focusing on drugs and gang awareness, building self-esteem, health and education challenges in the early teen years, and early planning for college.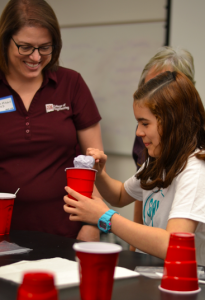 Girls CAN! is in the business of changing lives and has been for 24 years!
In 2017, for the first time, we held GIRLS CAN! at the Dona Ana Community College, East Mesa Campus. The workshops took place in state of the art classrooms and laboratories. This new venue encouraged many more girls and parents from the Las Cruces Public Schools to attend!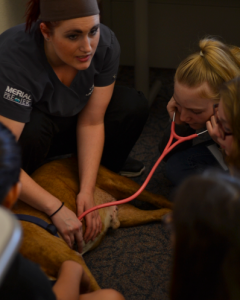 GIRLS CAN! requires the help of many volunteers and hours of preparation to make it a success. We especially need volunteers in the following areas: registration, presenter recruitment, parents' workshops, school outreach, food coordinators, and facilitators to assist our presenters.
Please come join the fun!  To volunteer or learn more about Girls Can!, contact Kay Brilliant or Londa Seiffert, via GirlsCanLasCruces (at) gmail.com.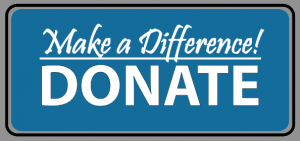 Girls CAN! is supported by volunteers and donations from generous community and industry partners from throughout New Mexico. All donations are now tax deductible! Girls CAN! is now a special project fund within the NM Network for Women in Science and Engineering (NMNWSE or Network). As a fund within the Network, it falls under their 501(c)(3) status, which will allow all donations to be tax deductible.
To donate to Girls CAN!, make the check payable to, NMNWSE, and add Girls CAN! in the notes section. Submit donations directly to NMNWSE, PO Box 51926, Albuquerque, NM 87121.
To donate via electronic payment in a safe and secure environment, select the PayPal button!