Megan McQueen presents: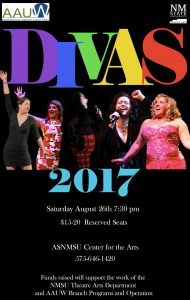 Join us for a wonderful night of DIVAS entertainment and help raise funds for both AAUW and the NMSU Theatre Arts Department!
McQueen will emcee the evening featuring:
* Della Bustamante as Country Diva
* Janet Beatty-Payne as Broadway Diva
* Amanda Bradford as Opera Diva
* Marybeth Torres as Soul Diva
with stunning hit after hit from Judy Garland, Barbra Streisand, Patsy Cline, and Whitney Houston.
DIVAS 2017 will include something for every music lover!
The performance will culminate in a Viva La Diva medley with six sensational young University women: Megan Thompson, Nicole Bartlett, Rachel Edwards, Asiah Thomas-Mandlman, Daniela Castorena, and Noelia de la Rosa, strutting their stuff to Lady Gaga, Madonna, Britney Spears, and Beyonce, as choreographed by Karlos Saucedo.
Buy tickets directly from the NMSU Pan Am Ticket Office or online: http://panam.nmsu.edu/.
*All profits from ticket sales will benefit the work of the NMSU Theatre Department and AAUW branch programs and operations. Sponsorships will go to the NMSU Theatre Department.
Sponsor a diva or divo…
On August 26th, Megan McQueen is reviving DIVAS to raise funds for NMSU Theatre Arts Department and the American Association of University Women for one night only! If you'd like to support the terrific work of these organizations, we're seeking sponsors for the acts in the show.
For $200, you or your business can sponsor one of the above artists. In exchange for your sponsorship, you will receive 4 prime reserved seats for the production, your name in our playbill and announced from the stage, and a reception with the DIVAS for sponsors only onstage after the show. Sponsorships can be arranged by calling or emailing Megan McQueen 575-646-5952 / memcqu@nmsu.edu.
Country Diva: Della Bustamante
Emcee (& Duet Partner): Megan McQueen
Broadway Diva: Janet Beatty-Payne
Opera Diva: Amanda Bradford
Soul Diva: Marybeth Torres
Piano Divo: Mark Klett
Piano Diva: Diane Schutz
Rising Star Divas: Miss New Mexico Taylor Rey & Miss Picacho Hills Outstanding Teen Abrianna Morales
The Next Diva Generation: Nicole Bartlett, Daniela Castorena, Noelia de la Rosa, Rachel Edwards, Asiah Thomas-Mandlman, Megan Thompson
Surprise Guest Diva: You Won't Be Disappointed SPONSORED!